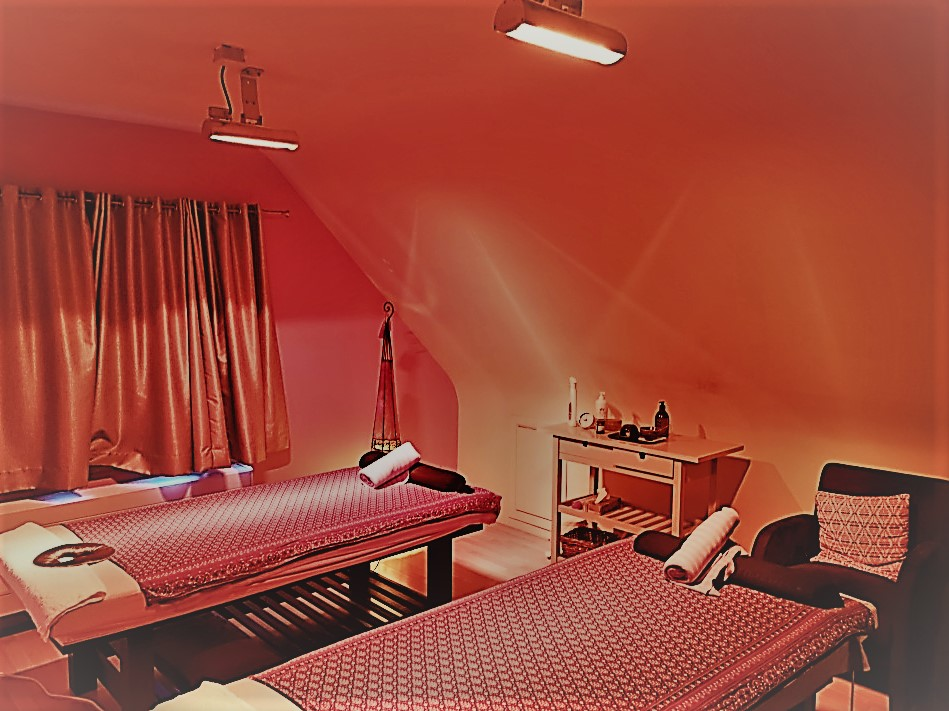 INFRARED MASSAGE - for a stronger resistance and more flexible body !
65€ (60min) - 90€ (90min) - 115€ (120min) - also in duo massage
HOW DOES INFRARED HEAT HELP AGAINST COLD OR FLU?
You get a cold and the flu from a virus, which we usually try to ease by taking vitamin C, drinking a lot and resting well. In treating flu, medications are often taken to relieve symptoms of the flu virus. These usually consist of a sore throat, stuffy or runny nose, sneezing and coughing, but also include headache, muscle pain and fever. Fever is part of the body's natural healing process and is an important way in which your body signals that something is wrong. It activates the immune system to quickly make your body better. Recent studies have shown that people who use the infrared regularly get fewer colds and flu than the average due to a better functioning immune system. But clinical studies do not yet provide 100% certainty about this.

INCREASED BODY TEMPERATURE THROUGH INFRARED HEAT
Infrared heat creates an artificial fever condition that helps the body fight the cold or flu. During a treatment, your skin temperature rises to 40 ° C and your internal body temperature to about 38 ° C. This process is known as hyperthermia. Using heat for cold and flu cures has long been an effective natural remedy.

INCREASED HEART RATE AND CIRCULATION
When using infrared radiation during a cold, the blood flow increases. After all, heat opens blood vessels so that more blood can be easily transported. In this way, the immune cells that are also carried in your blood can reach the infection faster and help you fight the cold or the flu more quickly.

WHAT RESEARCHERS DISCOVERED ABOUT INFRARED HEAT
In a hyperthermia study, scientists found that a type of immune cell called the CD8 cytotoxic T cell increases when heat is introduced. CD8 T cells specifically fight viral infections. When you expose yourself to the infrared heat when you have a cold or the flu, these cells not only help to activate your immune system but also strengthen it and fight for you, nice right?

The improved blood flow also means that more oxygen is flowing through the blood and delivered to your brain. This extra oxygen in your brain gives a feeling of increased energy and alertness
Furthermore, the accelerated circulation helps to reduce the muscle tension associated with a viral disease.

In case of persistent complaints caused by the virus, it remains advisable to consult a doctor, but an infrared treatment for early cold and flu symptoms offers a good chance that these will not continue and you will not experience any further problems.

On top of the wonderfully relaxing effect of the massage, isn't it?
Wilt u zich ook ontspannen ?
Twijfel niet en reserveer uw ontspanningsmoment online via onderstaande knop :